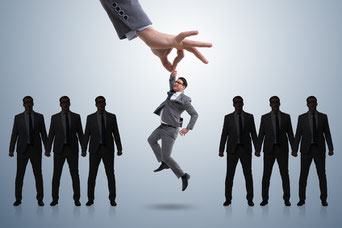 China is shifting from a low-cost production outsourcing location to a more mature market followed by increasing labor costs. Over the past years multinational companies have seen increased competition for executive talent from Chinese based companies which has shrunk the wage gap between local firms and their overseas counterparts.
Local executives in China have previously favored multinational organizations with higher pay, better benefits, and the promise of higher management positions they could be promoted into. There was also a thought that working for overseas companies was more prestigious and offered better career development opportunities. While that has been the reality in the past, things are changing for Chinese executives and multinational companies are seeing increased competition on the market.
Chinese companies have started attracting executive candidates away from the global companies that have dominated executive recruitment in the past. Companies based in China are upping the competition and making it more difficult for multinational companies to hire. National pride, attractive compensation packages, and better career opportunities are good factors in driving this change, but how exactly are they enticing them?
One way in which companies in China are working to bring local executive talent to their side is by offering benefits that are on par or more lucrative than those offered by multinational corporations. Several years ago when multinational corporations began their move to China the benefits they offered to their executives were significantly better than what was offered by local companies. Chinese companies have caught on and are stepping up and making adjustments to their total compensation packages.
Especially technology driven Chinese companies are sometimes outpacing their international competitors at adding attractive stock options to their compensation packages. Alibaba, China's largest e-commerce company, spent almost 15% of its annual revenue on stock-based compensation. At the same time Amazon spent less than 2% of its revenue on stock compensation. Tencent, another Chinese Internet giant which owns the country's most used messenger app, recently made headlines by paying a salary nearly double of that of Apple's highest paid senior executive.
Executive recruitment in China was about finding the best management talent and luring it with benefits unlike those that could be received at Chinese national companies. Now Chinese firms know what they need to do to compete and are matching their multinational competition. By offering competing salaries and similar benefits packages, more local executive talent is choosing to work for companies that are based in their home country.
Companies in China are growing at high speed which means a high number of job openings. According to China Daily "55% of domestic firms set to recruit more staff this year compared to 41% of multinational corporations". One reason for this shift in numbers is that multinational companies were negatively impacted by the recession. This caused them to slowly halt or cut jobs in China, while domestic Chinese companies continued to hire.
Seeing this shift has impacted local Chinese talent and encouraged it to pursue home based opportunities. Chinese executive talent now has more options when considering moves to the next level. Multinational companies are no longer the only option when it comes to attractive leadership roles. Ambitious local talent is still considering multinational companies, but along with local companies.
More job openings equal greater opportunity for Chinese nationals. With several positions open the idea of growing your career at a company based in your home country is very enticing. Job security in a local Chinese company is greater than at a multinational company which may decide to pull out or shrink its Chinese operations.
Most executives want to be able to make decisions. While in China there were some senior executives with official sounding titles, they often lacked the ability to make decisions. The decision makers, sat far away in the global headquarters. Even when there are high level leadership positions located in China, the China Business Review states they are largely filled with expatriate managers who are relocated to China from other parts of the world.
International companies often continue a "class ceiling" mentality which promotes the idea that they need a foreign executive to oversee a local team because they don't have confidence in local executive talent to handle processes. In addition, the expatriate manager who likely was moved from the company's global headquarters negates the need to invest in training of local talent to take on a management role.
This lack of career progression naturally leads to frustration with top local executive talent and leads them to seek opportunities elsewhere. Local companies are giving management level opportunities to their managers, which is enticing to frustrated executives who have higher ambitions. The input that these executives now have is extremely valuable and tough to compete with. Chinese based companies are able to attract rising executive talent away from multinational firms with high ranking positions.
Feeling that your leadership role matters is essential to job satisfaction and can outweigh factors such as salary and title when considering a new executive role. Several studies have linked job autonomy to overall happiness including an article from Science Daily. Autonomy can include flexibility in where and how you do your work and is a factor in overall work satisfaction.
Driving change is another factor that executives are looking for and one that local companies are providing. Being part of the change that can shape the company is a huge selling point, particularly for those who are looking for leadership roles. When executives have to act on a decision but don't have any input in what is happening, it can lead to job dissatisfaction.
As an article from the Harvard Business Review implies, there are ways  in which multinational companies can work to compete in this changing market. Better compensation packages, a clear career development path for management, and more leadership and decision making authority in the Chinese subsidiaries are key.
To attract Chinese talent companies will need to offer them the same or better opportunities than local companies. Many Chinese also like the idea of working for a company based in China for national pride. This may mean that foreign-invested companies will need to think of ways they can be more prevalent on the Chinese market.
If multinational companies want to continue to compete on the Chinese market ,they will have to develop a new approach that meets the needs of the local executive talent market. They can start by asking executives who currently work for them what they like best about their job there and advertise those aspects on the local market to attract top talent. And finding out what executives are dissatisfied with at the company is important too.
Once executives provide this information, companies can adopt to the local requirements, initiate change, and make sure that managers are aware of the change. Multinational companies can shift the balance again in their favor by recognizing the changing landscape in the market and adjusting to the needs of local executives.
References:
Chandran, Nyshka (Jan 2017) CNBC. Retrieved from https://www.cnbc.com/2017/01/11/narrowing-talent-recruitment-gap-between-local-and-foreign-companies-in-china-report.html
Huang, Joy (Jan 2013) Developing Local Talent for Future Leadership. China Business Review. Retrieved from
https://www.chinabusinessreview.com/developing-local-talent-for-future-leadership/
Schmidt, Conrad. (March 2011). The Battle for China's Talent. Harvard Business Review. Retrieved from https://hbr.org/2011/03/the-battle-for-chinas-talent
Wieczner, Jen (Feb 2016). Fortune Magazin. Retrieved from http://fortune.com/2016/02/05/alibaba-stock-pay-disturbing/
Tse, Edward (May 2016) Foreign Firms Need New Strategies For China's New Normal. Forbes Magazine. Retrieved from
https://www.forbes.com/sites/tseedward/2016/05/16/the-evolving-context-for-multinational-corporations-china-strategy/#995021483089
Wheatley, Daniel (April 2017) Autonomy in the workplace has positive effects on wellbeing and job satisfaction, study finds. Science Daily. Retrieved from https://www.sciencedaily.com/releases/2017/04/170424215501.htm