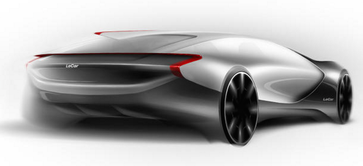 The smart car industry has become the new battlefield on which traditional car manufacturers and Internet companies are competing. One of the latest players entering the arena was announced in January last year when LeTV, best known for its streaming video platform held a press conference themed "Redefine the Future" in Beijing to announce the appointment of Lu Zhengyu, a former Managing Director of Asia & Oceania Operations for Infiniti, as Vice President for the newly established Leshi Super Electric Car Company, a subsidiary of the LeTV Group. In summer 2014 LeTV reportedly made a joint investment with the domestic carmaker Beijing Automotive Group (BAIC) into the American company Atieva, which is the design and engineering company for Tesla's Roadster.
In August 2015 the company released the first concept images of its Roadster called "Le Supercar" to the public, which aimed to compete with Tesla in the luxury car market. With the launching time far earlier than those of traditional car manufacturers the "Le Supercar" was expected to debut at the Beijing Motor Show in April this year and go on sale in early 2018. Following the trend of autonomous driving, LeTV's Chairman and CEO Jia Yueting set up an ambitious agenda and aimed not only at developing electric cars, but also establishing a comprehensive internet-connected vehicle ecosystem, which is a revolutionary step in the industry.
Increasing number of high-profile executives were getting poached
The first manager hired for the car project in 2014 was Tony Nie, a former founding member of Lotus Engineering China. He spent one year pulling together a Silicon Valley-based team of 200 experts that included traditional car designers and people with experience in electric cars, Internet services, and smart hardware. In China LeTV additionally recruited a team of 400 people and attracted high-ranking executives from Infiniti Motor,  FAW Volkswagen, GAC Toyota Motor, and SAIC Motor.
The increasing number of high-profile job changes has proven that Chinese Internet-backed electric carmaker LeTV caught the attention of executives looking for a different career path. The recent hire of Winston Cheng, former Asian head of investments at Bank of America Merrill Lynch, shows that LeTV was pursuing high-end talents at all costs and was willing to triple the salary for an experienced finance executive from a top-tier investment bank. Besides offering competitive compensation packages to lure talent what could be the driving force for job-hopping of these senior executives? LeTV also attracted managers who were thrilled by the fast-paced startup spirit of the company. It provided the opportunity to reach individuals and change people's lives in a tangible way by introducing innovative products to the market, which had the potential to change the industry. Certainly it's a more measurable influence than most of the long-established carmakers offered to their leaders. The battle for executive talent between new electric car companies such as LeTV and traditional carmakers had just started and would become increasingly fierce.