Human Resources is one of the most important branches of any business organization. A quality HR department will ensure that its company has recruited the best of the pool of available talent. Yet, in some circumstances the HR team fails to provide the optimum quality of labor due to the many shortcomings that they face. This is mainly related to the hiring process where they fail to recognize skilled and experienced employees.
Yet in China the challenge doesn't only rely on the Human Resources team in a business, but on the quality of the overall labor supply. Here are top 5 HR challenges faced by China's local and foreign companies.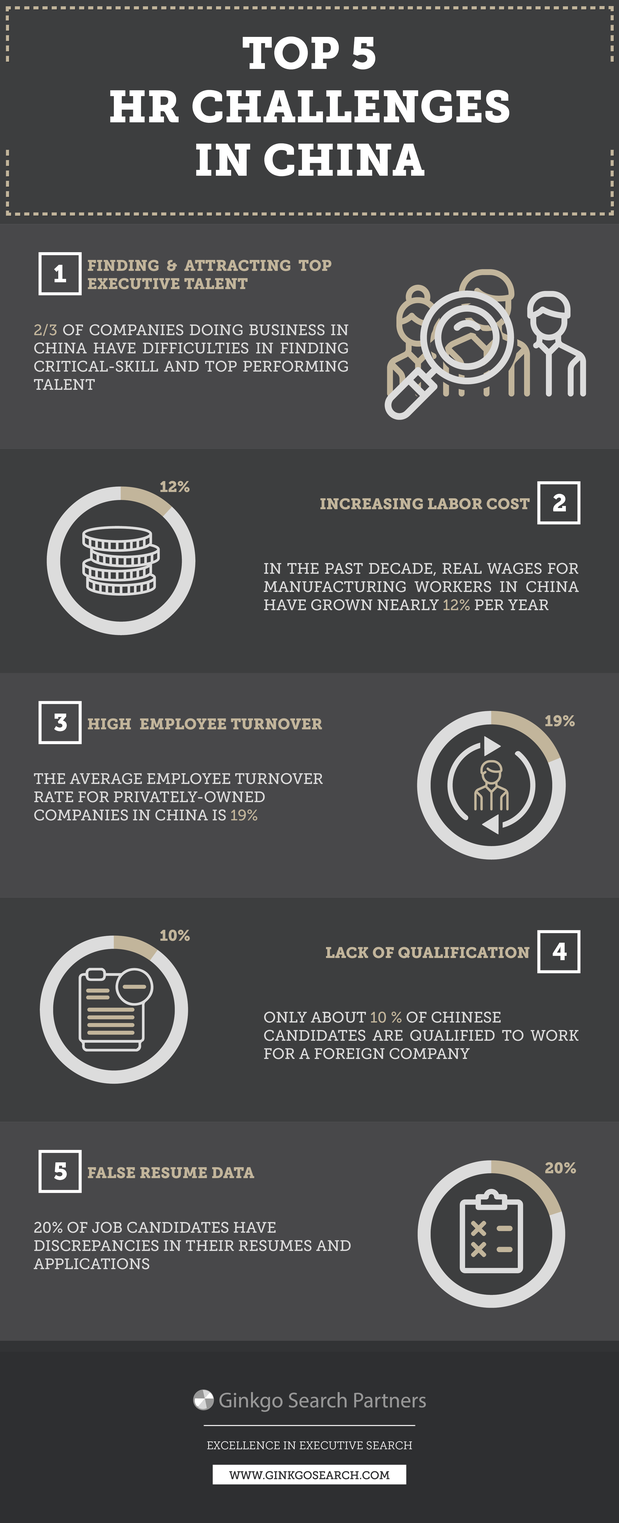 1. Difficulty in finding and attracting top talent
This is one of the main challenges faced by HR professionals who recruit employees for their organization in China. Multinational firms face this challenge because they fail to find executives with top grade skills. According to a survey every 2/3 of foreign companies engaging in business are faced with this difficulty. This signifies that China's labor supply lacks employees with sharp performance skills which are critical to working in a foreign firm.
2. Increasing labor costs
It is noted that in the past decade the real wage rate in the manufacturing sector in China grew by nearly 12% a year. Foreign companies are now facing an increase in the overall cost of production due to this. This can be due to the growth of the Chinese economy which has been accelerating at a breakneck speed. While this is definitely a good impact on the standard of living, it can also put foreign firms off running their business in China. This increased demand for wages is an additional burden to Human Resources as they already face a shortage of skilled labor.
3. High employee turnover
The average employee turnover rate for privately owned companies in China is 19%. Businesses decline in productivity due to this leading to lower consumer satisfaction. This is because there's a strong connection between employee turnover and customer turnover. Thus the Human Resources face hardships in identifying employees who will remain in the organization with genuine commitment.
4. Lack of qualification
A McKinsey study has revealed that fewer than 10% of local employees are well qualified to work for a multinational company in China. This has led to fierce competition among foreign businesses to recruit employees with the highest qualification. This is also a major HR challenge faced by international firms as they must offer better remuneration packages to recruit a well-qualified employee. 
5. False resume data
Since most employees are not sufficiently qualified and lack the right experience to work in an overseas firm, some local employees provide false resume data to get hired. This is one of the biggest obstacles Human Resources face as they have to make extra efforts to filter the candidates to find genuine ones. According to recent study conducted by Kroll 20% of job applicants have discrepancies in their resumes and applications. This causes the HR department to fail in recruiting real successful employees.
Conclusion
These 5 HR challenges need full attention of both the HR department and the top management, which is involved in managing the business operations in China. Only when an organization is able to attract and retain highly skilled and trusted employees will it be able to thrive their business in China and be successful in the long-run.
Find the link to our YouTube Video about the Top 5 HR Challenges in China here.