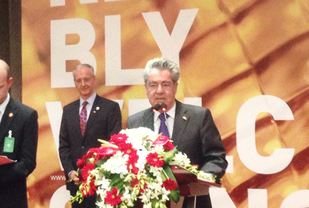 Dr. Heinz Fischer, President of the Republic of Austria, arrived in Beijing on March 26, 2015 with a high-ranking delegation.
During a Business Briefing and a Networking Evening Reception with 500 guests President Fischer emphasized the growing importance of economic relations between Austria and China as well as the potential for further cooperation. In 2014 the trading volume between the two countries exceeded EUR 10 billion for the first time. Chinese and Austrian companies have been very actively cooperating in a wide range of sectors such as machinery, urbanization, green technologies, infrastructure, mobility, and energy. 
Based on the new stage of development that the Chinese economy has reached, cooperation has recently also been growing stronger in areas like consumer goods and lifestyle, life sciences, medical technologies, and tourism. One excellent example is the field of winter sports, where Austrian companies have vast experience and expertise and are thus in an excellent position to support China with the preparations for the potential Winter Olympic Games in 2022. Our Beijing-based executive search team is a trusted partner of Advantage Austria in China and was invited to meet the high-level business delegation from Austria.